If your child is self-conscious about smiling, having braces can greatly improve the way he or she looks and feels.
When treatment is complete, your child will have an amazing, healthy smile, as well as the confidence to show it off! We want you and your child to feel comfortable and confident throughout the entire orthodontic experience, so our practice is dedicated to making sure that your child receives the quality care they deserve.
How Orthodontic Treatment Works
Orthodontic appliances are made of metal, ceramic, or plastic. They may be removable or they may be brackets bonded to the teeth. By placing a constant, gentle force in a carefully controlled direction, braces slowly move teeth to the proper position.
Gone are the days when a metal band with a bracket was placed around each tooth. Orthodontic patients can now choose brackets that are clear or metallic, and in some cases, customize the color of the appliance. Wires are far less noticeable, and the latest materials are designed to move teeth faster with more comfort.
Duration of Treatment
Depending on several factors, including age, treatment method, and how minor or severe your child's case is, treatment time varies and can last between one and three years. Receiving interceptive, or early treatment, can also help provide a quicker treatment time later on in life. Another big factor to a successful treatment is your child's cooperation. The more involved and diligent your child is, the quicker and more efficient treatment will be.
Before beginning your child's orthodontic care, our doctor will discuss all of your child's options and provide an estimate for how long full treatment may take. Please contact our practice to schedule an appointment and learn more about orthodontics and the treatments we provide.
Types of Braces
Traditional Metal Braces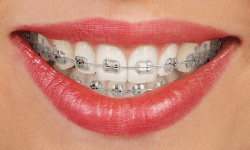 Traditional metal braces are the most common type of braces and are more comfortable today than ever before. Made of high-grade stainless steel, metal braces straighten teeth by using metal brackets and archwires. With metal braces, there is the option of adding colored elastics (rubber bands) for a more unique and colorful smile.
---
Self-Ligating Braces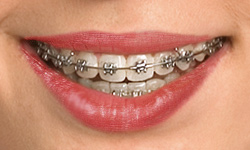 Self-ligating braces are made from the same materials as traditional braces; however, self-ligating braces do not require the use of elastics, meaning fewer appointments and less friction being placed on the tooth. Self-ligating braces come with traditional metal, ceramic, or clear brackets. They are the same size as metal braces, but they use a specialized clip in place of elastics to help the archwire guide teeth into place. The clip helps reduce the amount of pressure being placed on the tooth and requires fewer adjustments because there are no elastics to replace.
---
Clear (Ceramic) Braces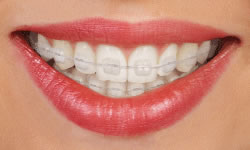 Ceramic braces are made of clear materials and are therefore less visible on the teeth than metal braces. For this reason, ceramic braces are used mainly on older teenagers who have cosmetic concerns. While they are visually less prominent, they do require more attention to oral hygiene, as ceramic braces are larger and more brittle than their metal counterparts. For these reasons, ceramic braces tend to be used more on upper front teeth rather than on lower teeth.
---
Clear Aligners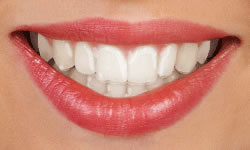 Clear aligners are a series of invisible, removable, and comfortable acrylic trays that straighten the teeth like braces. Not only are the aligners invisible, they are also removable, allowing your child to eat and drink without concern while in treatment. Plus, this helps to make brushing and flossing less of a hassle. The aligners are comfortable and have no metal to cause mouth abrasions during treatment.
---
Gold Braces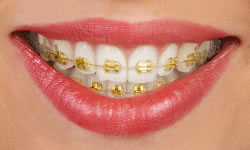 Gold braces are similar to traditional metal braces. Like traditional metal braces, gold braces are made of stainless steel; however, they are coated in gold. The gold coating may be considered a more cosmetic option than traditional metal braces. And, the cost of gold braces is surprisingly comparable to most clear braces.
---
Lingual Braces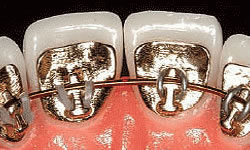 Lingual braces are hidden behind the teeth and are therefore "invisible" when your child smiles. Lingual braces are 100% customized to match the shape of the teeth. Lingual braces are a very reasonable option for athletes, models, actors/actresses, and musicians who play wind instruments.
Orthodontics in Derry
If you or your child are searching for a beautiful and aligned smile, we have the resources you need. From Invisalign treatments and full-fixed braces to arch development and crossbite correction, we have the advanced orthodontic treatments needed to keep patients in Derry smiling confidently.
Benefits of Orthodontic Dentistry
Orthodontics encompasses so much more than just braces. We can treat issues with both jaw and bite irregularities as well. We recommend an initial orthodontic evaluation as early as 7 years old. This complimentary evaluation will help our orthodontist determine what type of orthodontic treatment, if any, is needed—and we will work with you to develop the perfect plan tailored to your specific needs.
While some orthodontic treatments are needed due to genetics, others are the result of damaging oral habits, like thumb sucking or tongue thrusting. Whether you or your child has an overbite, tooth size discrepancy, or poorly positioned tooth, we have the expertise to create a smile you can be proud of.
Benefits of orthodontic treatment include:
Increased ability and comfort when chewing food
Less teeth grinding and chipping
Reduced risk of injury from misalignment
Reduced risk of periodontal disease
Easier cleaning and flossing
Heals certain speech impairments
Improved aesthetics and self-confidence
Honest & Cutting-Edge Treatment
Dr. Amanda Kramer has been treating patients of all ages for years and regularly attends training sessions about the newest technologies in the orthodontic field in order to provide the best possible treatment. We want to build relationships with our patients that last a lifetime, which is why we work hard to offer a full range of orthodontic services that will allow you to have a newfound confidence in your smile.
Our orthodontic treatments include:
Invisalign for adults and teens
Full fixed braces
Fixed or removable arch development and retainers
Splints and interim partial dentures
Tailored appliance application based on need