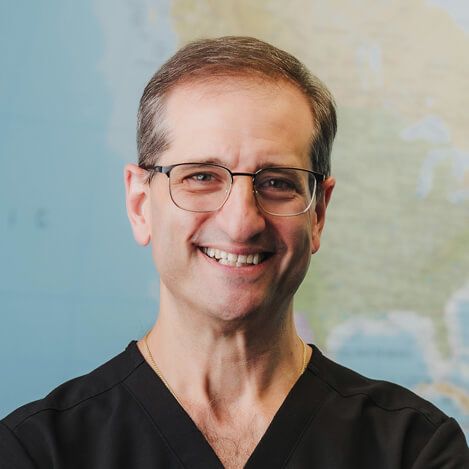 Jim Hass, DDS
Practice Owner, Pediatric Dentist
Dr. Jim Haas has always loved working with children, so his decision to become a pediatric dentist was a natural choice. After more than 20 years in private practice, Dr. Jim is grateful that he has been fortunate enough to work in a field that he thoroughly enjoys. His focus is not only the dental health of his patients, but their overall well-being. Dr. Jim wants all of his patients and their families to feel comfortable with their treatments, but he recognizes that this can only be accomplished by assessing each individual's needs. His calm, soothing, and often humorous approach help his patients relax and walk away with a very positive dental experience. For patients who are more anxious or have special needs, Dr. Jim has extensive training in conscious and complete sedation dentistry for children and is one of only a few pediatric dentists in New Hampshire who holds a permit to sedate children.
Dr. Jim attended the University of Vermont, and then graduated, with high honors, from Rutgers University. He moved directly from there to the University of Maryland Dental School, graduating magna cum laude. After dental school, Dr. Jim completed a three-year residency in pediatric dentistry at the Children's Hospital of Pittsburgh and the University of Pittsburgh School of Dental Medicine. Dr. Jim Haas is board-certified in pediatric dentistry, earned the title of Diplomate of the American Board of Pediatric Dentistry, and is a member of the American Academy of Pediatric Dentistry, American Dental Association, New Hampshire Dental Society, and the New Hampshire Academy of Pediatric Dentistry.
It is important to Dr. Jim to spend time with his family and to be involved with his community. When he's not reading, hiking, boating, or traveling with his kids, Dr. Jim likes to support children here in New Hampshire and abroad. He is involved with the foster care system in New Hampshire and participates in the Dentists with a Heart program, including providing screenings in local elementary schools. Dr. Jim also travels to Israel every year in conjunction with Dental Volunteers for Israel, donating his time and talents to underprivileged children, from all backgrounds, in Jerusalem.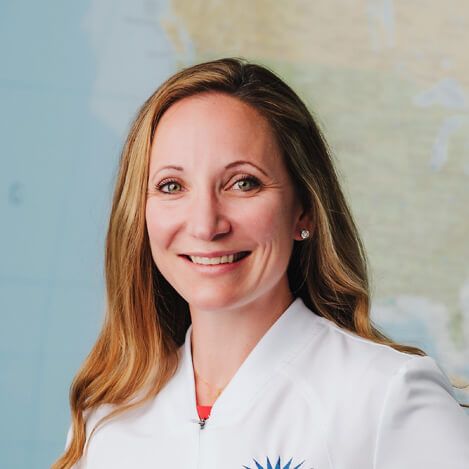 Amanda Kramer, DMD
Practice Owner, Orthodontist
Dr. Kramer was born and raised in Presque Isle, Maine. She graduated from Colby College with a degree in psychology. After college graduation, Dr. Kramer lived in Boston and worked as an orthodontic assistant. She completed her dental training at Tufts University School of Dental Medicine in 2009. At Tufts, she received the Excellence in Clinical Dentistry award. Following graduation from dental school, Dr. Kramer practiced general dentistry in Lawrence, Massachusetts. She then completed her orthodontic specialty training and received her postgraduate degree from Tufts University School of Dental Medicine.
As a third-generation orthodontist, Dr. Kramer's passion for and love of orthodontics truly runs in the family. She is dedicated to delivering the highest quality of patient care and is committed to treating each patient like they are members of her own family. She aims to welcome families into an environment where they can feel comfortable and at home. What Dr. Kramer loves most about her job is the transformation in esthetics, function, and personality that orthodontics can provide.
Dr. Kramer is a member of the Tufts Alumni Association and Tufts Association of Orthodontists, the Northeast Society of Orthodontists, the American Association of Orthodontists, the New Hampshire Dental Society, and the Greater Salem Dental Society. She regularly attends orthodontic continuing education courses to keep her practice up to date with the newest technology.
Dr. Kramer resides in Andover, Massachusetts, with her husband Brian, their daughters Delilah and Savannah, and their sons Mikey and Declan. She is lucky to bring our comfort dog, Ellie, home at the end of the day. She enjoys spending time with her family, being at the lake, traveling, golfing, and experiencing all New England has to offer. She and her husband are big Boston sports fans and love cheering on all the Boston sports teams.
---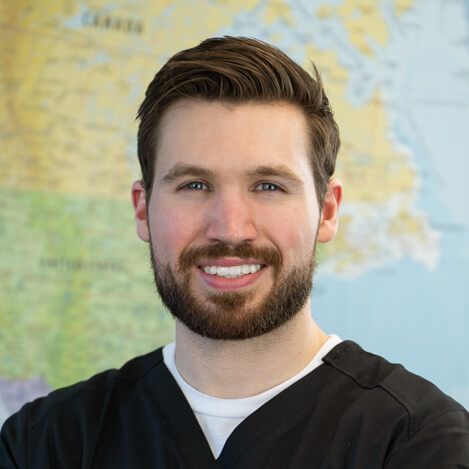 Brian "Chip" Sullivan, DMD
General Dentist - Pediatric Department
Dr. Brian Sullivan, better known as Chip, has lived in New Hampshire since 2001 when he was still in grammar school. Dr. Chip graduated from Pinkerton Academy in 2012 where he ran track and field and he went on to study and run at the University of New Hampshire. During his time at UNH, Chip had the opportunity to go on a mission trip to Panama with two dentists, which left him with a burning desire to complete another trip but the next as a dentist.
After graduating with his B.S. in Neuroscience, Chip took a year off to work and race his dirt bike. During that year, Chip received his acceptance to Boston University Goldman School of Dental Medicine. During his first year of dental school, Chip finished his motocross season with a New England amateur championship. This competitive and self-motivated nature would allow him to rise to the top of his class in his clinical competencies. During his final year, he was the recipient of two awards, an Excellence in General Dentistry award and an Esthetic Appearance in Dentistry award upon graduation.
During his time practicing, Dr. Chip began to develop a new passion for dentistry working with children. He is a member of the NH Dental Society and strives to stay at the forefront of technology in his field by taking continuing education coursework. His kind and patient demeanor will leave you and your kids with a pleasant experience at the dental office.
Outside the office, Dr. Chip enjoys mountain biking, hiking, and dirt biking. Although he is attempting to learn how to golf, he has not had much success.
---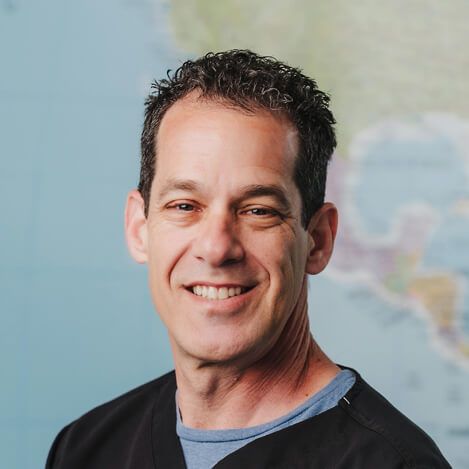 Milton Zweig, DDS
General Dentist
We are excited about our newest addition to the Haas Dental family, Dr. Milton Zweig! He has always wanted to live on the east coast and moved from California with his wife Kristina after their four grown children went off on their own. They are excited about the new adventure and look forward to experiencing the four seasons of New Hampshire. For the past 21 years, he was in private practice in the California suburb of Thousand Oaks. Dr. Zweig had the privilege of watching many of his patients grow up and bring their own children in for treatment.
Dr. Zweig graduated dental school from the University of Southern California. He was a USC's presidential fellow and USC's founder of the Doctors Ought to Care program. The program was developed to provide basic dental education and services to Los Angeles' inner city youth. He received the Special Recognition by the Dean Award presented as recognition for services through the Doctors Ought to Care program.
Dr. Zweig enjoys treating new patients who are nervous about treatment and turning them into a believer in proper oral care. He enjoys working with the fearful patient, making them feel comfortable and in control during their visits. He loves the opportunity to educate patients on the "how" and the "why" of what we provide so that they can feel confident making an informed decision regarding their treatment plan.
Dr. Zweig is committed to providing the best and most advanced care for his patients. Dentistry is an ever-changing field, and he spends time regularly attending education courses that keep him up to date on all the latest advances in the dentistry field. Dr. Zweig's passion for education extends to other dental professionals as well. He has served as a guest lecturer for Sirona Dental Systems, educating other dentists about CAD/CAM technology (CEREC® one-visit restorations). Over the years, he has been a part-time clinical instructor at USC, a dental assistant instructor at a local community college, and a dental radiology instructor at a regional Occupation Career Center in California.
---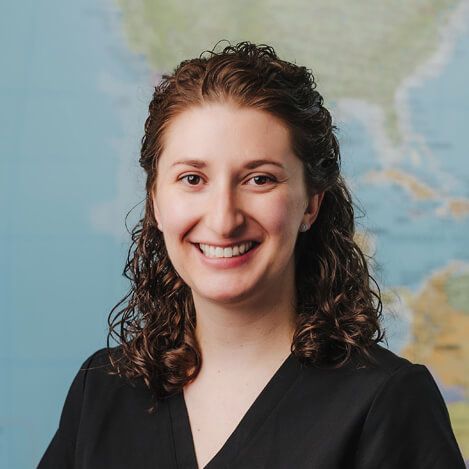 Kristine Trontz, DDS
Pediatric Dentist
Dr. Kristine Trontz is so excited to be returning to New England and joining Haas Dental Associates. Dr. Trontz grew up in Nashua, New Hampshire and attended Bishop Guertin High School in Nashua. She graduated from Worcester Polytechnic Institute in Worcester, Massachusetts with high distinction, where she received her Bachelor of Science degree in Biology and Biotechnology with minors in Chemistry and Spanish. Dr. Trontz matriculated at the University of Maryland School of Dentistry and received her Doctor of Dental Surgery degree.
During her time at the University of Maryland, she was awarded membership into the Omicron Kappa Upsilon National Dental Honor Society, Gorgas Odonatological Honor Society, and Gamma Pi Delta Prosthodontic Honor Society. Following graduation, Dr. Trontz completed her specialty pediatric dentistry training at Cincinnati Children's Hospital Medical Center. There she managed dental trauma and infections, treated patients with a variety of special healthcare needs, and worked with various specialists in the dental field.
Dr. Trontz is trained in conscious and complete sedation dentistry, and along with Dr. Jim, is one of only a few pediatric dentists in New Hampshire that provides this service to children. Dr. Trontz is board certified in pediatric dentistry and is a member of the American Dental Association, American Academy of Pediatric Dentistry, New Hampshire Dental Society, and the New Hampshire Academy of Pediatric Dentistry.
Dr. Trontz believes that the lifelong relationships forged with patients is one of the greatest aspects of pediatric dentistry and sees the importance of being involved in the community. Dr. Trontz has traveled to Honduras as part of the CURE International program. She provided dental care to adolescents and adults, as well as oral hygiene instruction to local schoolchildren. She also provided dental services to the community in Baltimore through programs such as Smiles for Success and Mission of Mercy, as well as local health fairs in Cincinnati. She is looking forward to volunteering and forming those community ties in New Hampshire.
Outside the office, Dr. Trontz enjoys running and participating in marathons around the US. She also enjoys international travel, particularly to Brazil, which she has visited frequently since she was a child.
---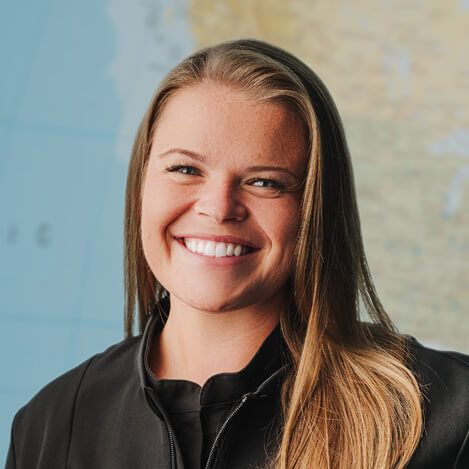 Julia Geaumont, DMD
Pediatric Dentist
Dr. Julia Geaumont was born and raised in Saco, Maine. Dr. Julia attended high school at Thornton Academy and went on to study at Bowdoin College. In high school and college, Dr. Julia played softball and was named Miss Maine Softball and Maine's Gatorade Player of the Year. She later went on to be Bowdoin's first softball player to be named the conference Player of the Year. Dr. Julia graduated college with a Bachelor of Arts in Biology and minored in Sociology.
After college, Dr. Julia worked for one year as a support teacher for students with special needs. She then attended dental school at Boston University. At the start of her third year of dental school, Dr. Julia was awarded the Spencer N Frankl Award for leadership and academic excellence. In her final year of dental school, Dr. Geaumont received the General Dentistry Fixed and Removable Prosthodontics Award, American College of Dentists Award, American Academy of Esthetic Dentistry Award, Brian D. Stone Memorial (Supporting Patients with Special Healthcare Needs) Award, American Academy of Pediatric Dentistry Award, and the Academic Excellence Award. Dr. Julia finished as the valedictorian of her dental school class and was inducted into Omicron Kappa Upsilon.
Immediately after, Dr. Julia completed her two-year pediatric dental residency at Nova Southeastern University and Joe DiMaggio Children's Hospital, where she served as Chief Resident. During her journey in post-doctoral residency, Dr. Julia received extensive training in behavioral management, including advanced management techniques like oral sedation and general anesthesia. Dr. Julia has always loved being around and interacting with children. Dr. Julia's patience, compassion, and charismatic personality allow her to create the most comfortable and enjoyable dental experience possible for her patients.
Dr. Julia recently moved back to New England and resides in Concord with her fiancé Kyle and their black lab Bo. In her free time, Dr. Julia enjoys spending time with her family, fishing, hiking, hunting, traveling, and golfing.
---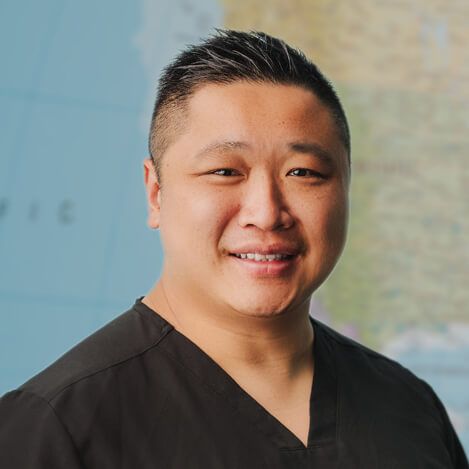 F.W. Hugo Ma, DMD
Pediatric Dentist
Dr. Hugo Ma's journey in the field of dentistry is enriched by his multicultural background. Raised in Hong Kong, he brings a global perspective to his multifaceted career. Dr. Hugo speaks English, Cantonese, and Mandarin.
Dr. Ma's dental career took root in 2002 as a dental assistant in the U.S. Air Force, where he collaborated with various dental specialists. During this pivotal period, his deep passion for pediatric dentistry was ignited.
Dr. Ma Learned dual degrees in Biochemistry and Modern Language from the University of Oklahoma, laying the foundation for his diverse skill set.
His educational journey continued with the pursuit of a Doctor of Dental Medicine (D.M.D.) degree from the University of Nevada-School of Dental Medicine in Las Vegas. It was here that he discovered his true calling in caring for young patients. Dr. Ma then further honed his expertise through a rigorous pediatric dentistry residency at Tufts University and Tufts Medical Center.
His dedication to his profession is exemplified by his membership in esteemed organizations, including the American Academy of Pediatric Dentistry, the American Board of Pediatric Dentistry, the American Dental Association, the Massachusetts Dental Society, and the Massachusetts Academy of Pediatric Dentistry.
Outside of his professional life, Dr. Ma finds joy in New Hampshire, where he resides with his wife and 3 dogs plus 1 orange cat.